Aaaaaahhhhh…. The Happy Madison logo.
For the avid movie goer, this production credit sequence conjures up a sense of familiarity. What exactly that familiarity is in relation to may differ drastically. The slapstick nature that is the heart and soul of each Happy Madison production. That slapstick isn't for everyone, and I get it. I mean there have been some absolutely painful movies like Jack n Jill and Ridiculous 6 or whatever number it was. Those movies were god awful.
Credit to Happy Madison productions for being what seems to be the single most bromantically driven production company out there. Adam Sandler has found a way to keep his buddies gainfully employed and absolutely filthy rich. That kind of operation is one in which any man strives to run. It truly is amazing how Adam Sandler's greatest joke as a comedian is convincing Netflix to give him $250 million dollars for a 4 movie deal. Alright pretensive credit disbursed. Now onto the latest Happy Madison joint…
Home Team is based on the suspension that Sean Payton was rightfully given when it was found out that under his leadership the New Orleans Saints had a bounty system in place to reward defensive players who were to target and injure key opponents. This scandal came to be known as "BountyGate", because of course it did. During this suspension from the NFL Sean Payton coached his son's middle school team.
That is what we see here.
Just a great feel good story about a bunch of underdogs overcoming adversity right? Not quite, I'd say it's almost a Little Giants reboot, Sidebar: if you have yet to see the classic Rick Moranes film Little Giants, stop reading this and treat ya self. It feels like a reboot of that film that hits so much better on the more dramatic moments.
Honestly the comedy in the film works. A weird but honestly entertaining aspect of the film are the moments in which it gets its most "Happy Madisonnish". For seconds at a time throughout the film there are slapstick moments that almost appear from a different movie. One assistant coach in particular throughout the film, appears to be in a different film altogether, as if he were some multiversal entity foreign to our own understanding of comedy and nature. So bizarre but entertaining and I'm honestly perplexed as to why it worked for me.
Adam Sandler's wife, got hella play in this movie. In case you didn't know this is Adam Sandler's wife Jackie Sandler.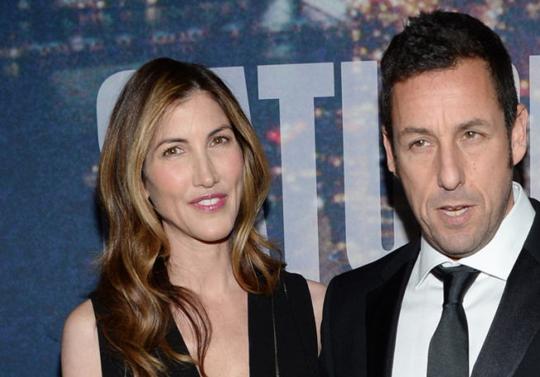 Also, Sean Payton cameo as the cleaning man. I enjoyed that.
I've seen worse movies people. At least 5 of them being other Happy Madison films. But this by far ain't the worst offering available. Not a bad option for anyone who has already ravaged most of Netflix's offerings.
Rotten tomatoes has it at 12% but that is absolutely too harsh. Go in with "I'm going to watch an Adam Sandler movie" and it'll be at least watchable.
Give this flick a 4 Rob SCHNEIDER'S SCREAMING "You Can Do It!" out of 10.
God Bless Adam Sandler for his charity work keeping Taylor Lautner working…
-BURKE